Phocea Mekong Cruise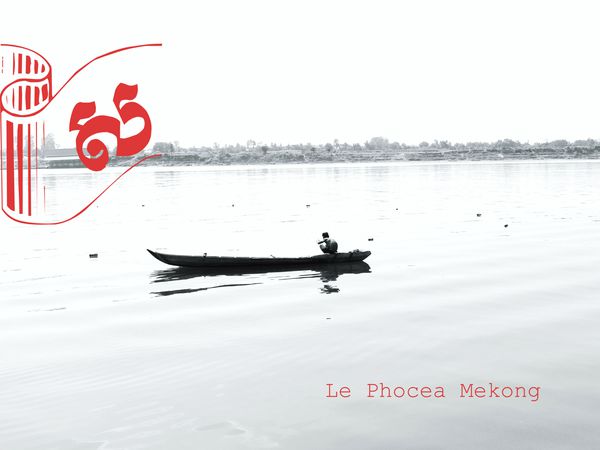 Experience the all inclusive rivercruise concept 
Sunset cocktail & dinner cruise
Oudong day cruise & tour
Charters & Events
Website: www.phoceamekong.com
Email: info@phoceamekong.com
Tel.: (++855) 012 221 348 français/English
Tél.: (++855) 012 844 170 français/khmer
Location: Sisowath Quay in front of n° 104 street – Phnom Penh
All inclusive rivercruise concept:
Travelling with Phocea Mekong Cruises, you can enjoy the moment in a comfortable and stressless atmosphere: our all-inclusive concept on all our cruises offers a full range of services: the price of the cruise includes the embarkation port rates, admission tickets on pay sites (Udong), the tuk-tuk if necessary (Udong), but also drinks (coffee, tea, juices, sodas, beer, spirits and cocktails) at will and meals with red and white french wines, according to the different cruises.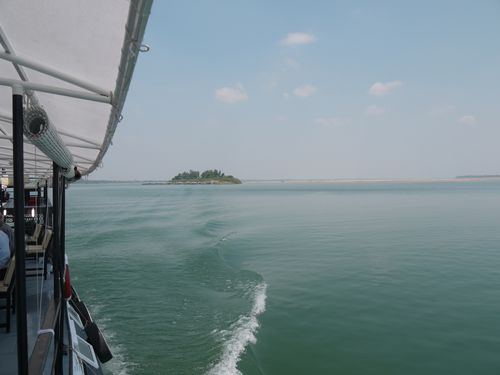 Phocea Mekong is cruising monthly between Phnom Penh and Kompong Cham, booked by tour-operators looking for comfortable and disctinguished ways of travelling.
From breakfast to lunch, with cocktails served  along the journey, our passengers discover a timless experience, overlooking the wild and mythic Mekong river.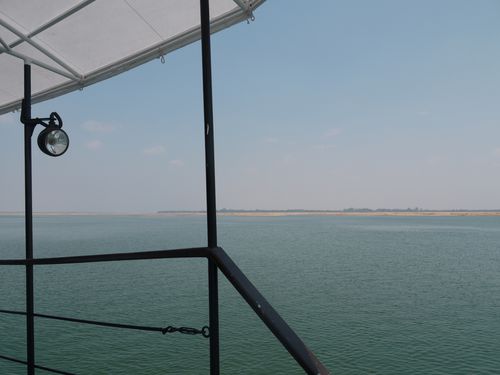 Arrival at sunset on Kompong Cham port, place of the last bridge crossing the Mekong River until Kratie province and Lao border.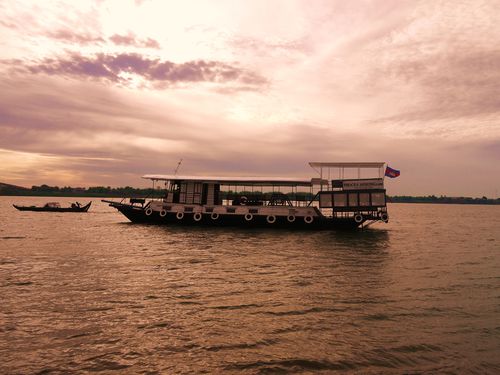 Phocea boat, 7 AM, before boarding to Phnom Penh.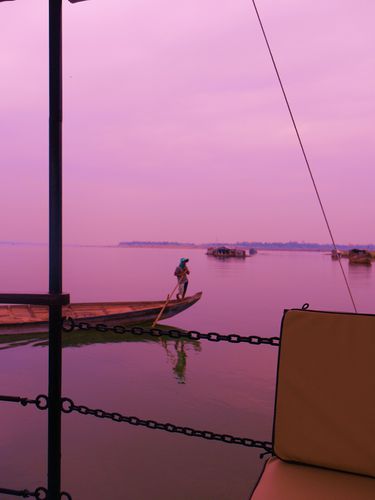 LOW DECK
Low deck offers a dining area for up to 16 guests on common table. Shutters allow a nice view at the water level and a breezy atmosphere.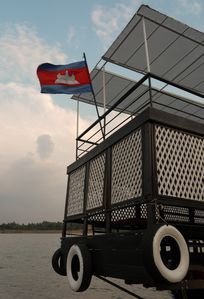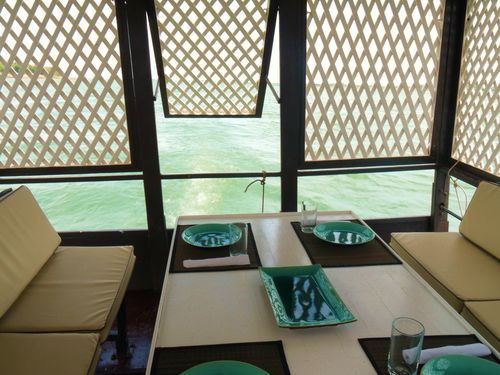 PANORAMIC DECK
Overlooking the river, the panoramic deck is the best place to discover the surrounding landscape.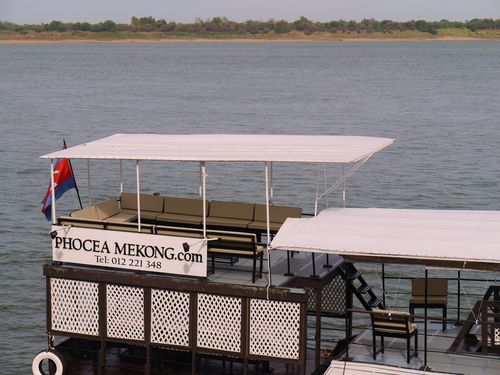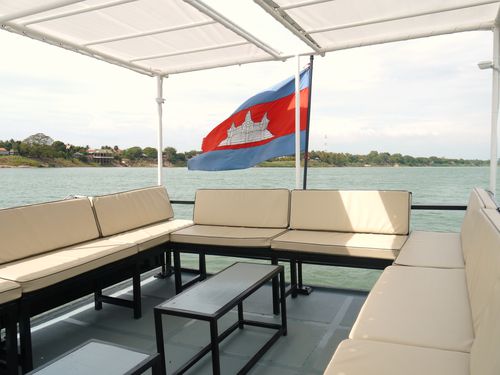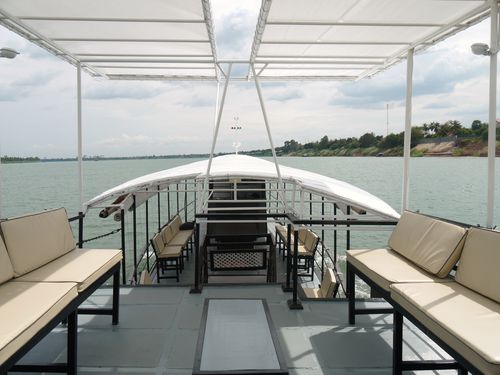 CENTRAL DECK
Central deck is offering a 14 seats capacity, in front of the bar which is providing fresh drinks along the journey.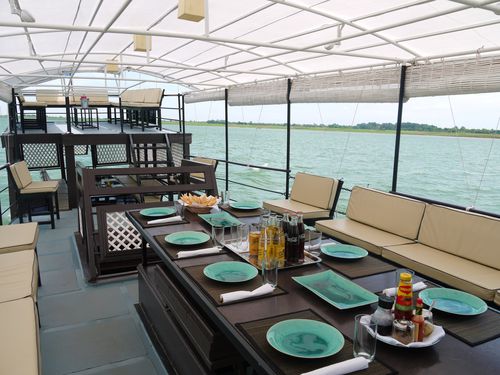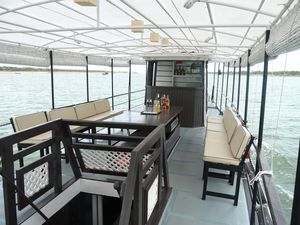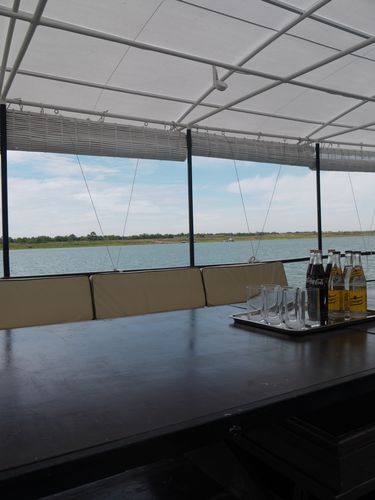 Bamboo shutters can be used to protect from sun or rain, without hiding the view and the fresh air.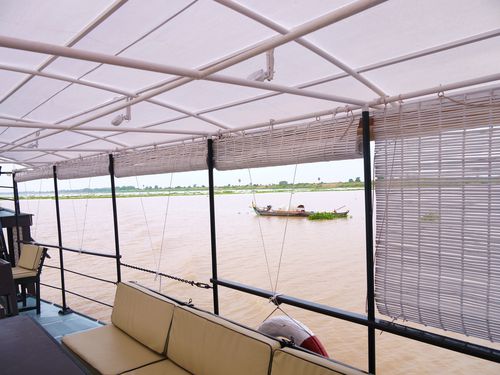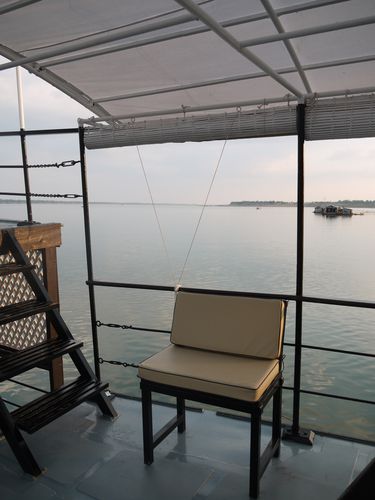 INDOOR CABIN
An indoor cabin, well ventilated and quiet, is offering a comfortable and intimate area where you can read or watch a movie (selection of  movies and cartoons) on our video system.
Both parents and children will appreciate this area wich is a safe and relaxing place for kids.